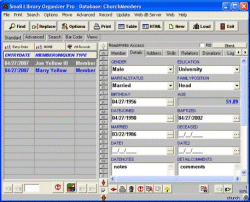 Church Organizer Pro is a flexible database management software with ready to use church membership management solutions. Our software gives you an easy way to manage, track, and organize data of a small church. For the database novice, Organizer's intuitive interface and ready-to-use church member management solutions make it easy to set up and use.
Fiche de Church Organizer Pro
Version
1.7
Licence
Shareware
Taille
12.08 Mo
Langue
Anglais
Système d'exploitation
Win95,Win98,WinME,WinNT 4.x,WinXP,Windows2000,Windows2003,Windows Vista Starter,Windows Vista Home Basic,Windows Vista Home Premium,Windows Vista Busi
Editeur
PrimaSoft PC
Catégorie
Bureautique : Blocs notes
Date de la fiche
15/10/2007
Nombre de téléchargements
505 fois
Nombre de votes
0
Note moyenne
0/10
Noter Church Organizer Pro !
Temps de téléchargement
Modem 28.8 kbps
0 h 56 min 4 sec.
Modem 33.6 kbps
0 h 48 min 3 sec.
Modem 56 kbps
0 h 28 min 50 sec.
Modem Cable / Adsl
0 h 12 min 37 sec.
Abonnez-vous à la News Letter et recevez les nouveautés tous les mois par email !
connectés