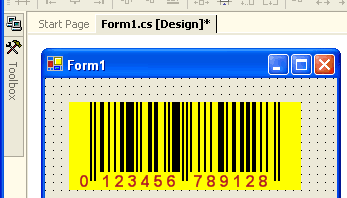 BarCode .NET Control enables you to add barcode functionality to any application, developed in .NET environment. It is written in C# using 100% managed code, compatible with any .NET environment, and supports a variety of barcode types. There is a choice of properties and methods for flexible customization of the barcode. BarCode .NET Control has versions for both .NET 1.0 and .NET 2.0, plus there is a version for Compact Framework 2.0.
Fiche de BarCode .NET Control
Version
1.6
Licence
Shareware
Taille
0.44 Mo
Langue
Anglais
Système d'exploitation
Win95,Win98,WinME,WinNT 4.x,WinXP,Windows2000,Windows CE
Editeur
RKD Software
Catégorie
Développement : Divers
Date de la fiche
27/02/2007
Nombre de téléchargements
545 fois
Nombre de votes
0
Note moyenne
0/10
Noter BarCode .NET Control !
Temps de téléchargement
Modem 28.8 kbps
0 h 2 min 2 sec.
Modem 33.6 kbps
0 h 1 min 45 sec.
Modem 56 kbps
0 h 1 min 3 sec.
Modem Cable / Adsl
0 h 0 min 27 sec.
Abonnez-vous à la News Letter et recevez les nouveautés tous les mois par email !
connectés