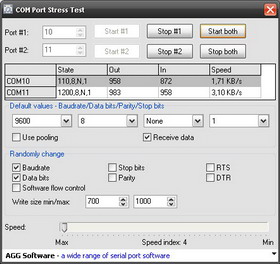 If you are puzzled by having to stress-test COM/RS232 ports and see no easy way to do that, make sure you don't miss COM Port Stress Test, as it does exactly what you need! COM Port Stress Test is a compact and affordable tool for testing COM, RS232 and RS485 (with converter) ports that generates an extremely fast data stream with alternating baud rate, flow control, RTS and DTR states. Try this software now and you won't be disappointed!
Fiche de COM Port Stress Test
Version
1.2.1.21
Licence
Freeware
Taille
1.44 Mo
Langue
Anglais
Système d'exploitation
Win95,Win98,WinME,WinNT 4.x,WinXP,Windows2000,Windows2003,Windows Vista Starter,Windows Vista Home Basic,Windows Vista Home Premium,Windows Vista Busi
Editeur
AGG Software
Catégorie
Développement : Programmation
Date de la fiche
13/03/2008
Nombre de téléchargements
98 fois
Nombre de votes
0
Note moyenne
0/10
Noter COM Port Stress Test !
Temps de téléchargement
Modem 28.8 kbps
0 h 6 min 41 sec.
Modem 33.6 kbps
0 h 5 min 43 sec.
Modem 56 kbps
0 h 3 min 26 sec.
Modem Cable / Adsl
0 h 1 min 30 sec.
Abonnez-vous à la News Letter et recevez les nouveautés tous les mois par email !
connectés