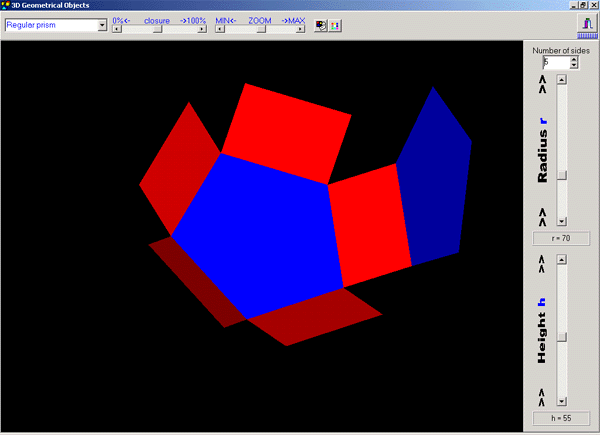 The software is designed as a simple accessory for teaching math. The program can represent the following objects in 3D space: regular prism (3 to 10 sides); general three-sided prism; special four-sided prism (adjustable inclination of sides); regular pyramid (3 to 10 sides). For each geometrical object, certain parameters can be interactively adjusted, such as: height and length of sides, inclination of sides, number of sides, etc.
Fiche de 3D Geometrical Objects
Version
1.4
Licence
Shareware
Taille
1.06 Mo
Langue
Anglais
Système d'exploitation
Win95,Win98,WinME,WinXP,WinNT 4.x,Windows2000,Windows2003
Editeur
EduIQ.com
Catégorie
Education : Science
Date de la fiche
25/09/2004
Nombre de téléchargements
1066 fois
Nombre de votes
1
Note moyenne
5/10
Noter 3D Geometrical Objects !
Temps de téléchargement
Modem 28.8 kbps
0 h 4 min 55 sec.
Modem 33.6 kbps
0 h 4 min 13 sec.
Modem 56 kbps
0 h 2 min 31 sec.
Modem Cable / Adsl
0 h 1 min 6 sec.
Abonnez-vous à la News Letter et recevez les nouveautés tous les mois par email !
connectés