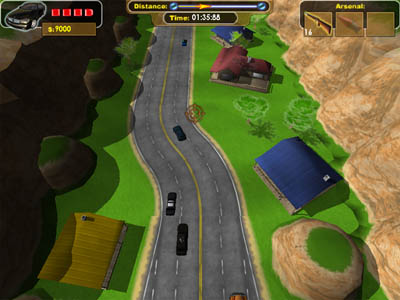 Little Jo et ses potes ont décidé d'organiser un petit business en transportant de la contrebande. Ils ont acheté une caisse, fait son tuning et ils ont trouvé leurs clients. Mais les gangs locaux l'ont su, et désormais ils feront tout pour renverser leurs concurrents. Aide les personnages du jeu à survivre dans cette guerre des gangs!
Fiche de Mad Dogs On The Road
Version
2.0
Licence
Freeware
Taille
30.12 Mo
Langue
Anglais
Système d'exploitation
Win95,Win98,WinME,WinNT 3.x,WinNT 4.x,WinXP,Windows2000,Windows2003,Windows Vista Starter,Windows Vista Home Basic,Windows Vista Home Premium,Windows
Editeur
MyPlayCity.com
Catégorie
Jeux : Action
Date de la fiche
22/10/2007
Nombre de téléchargements
240 fois
Nombre de votes
0
Note moyenne
0/10
Noter Mad Dogs On The Road !
Temps de téléchargement
Modem 28.8 kbps
2 h 19 min 48 sec.
Modem 33.6 kbps
1 h 59 min 50 sec.
Modem 56 kbps
1 h 11 min 54 sec.
Modem Cable / Adsl
0 h 31 min 27 sec.
Abonnez-vous à la News Letter et recevez les nouveautés tous les mois par email !
connectés