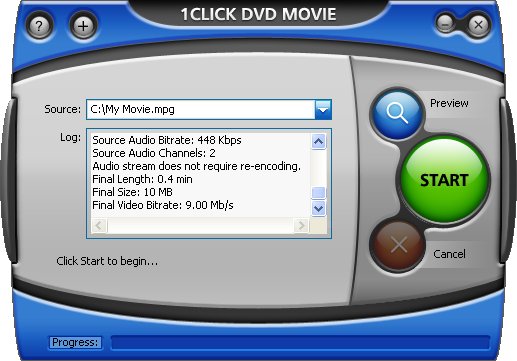 1CLICK DVD MOVIE converts movie files to DVD, VCD or SVCD. This software is compatible with most movie file formats including AVI, DivX, XviD, MPEG1, MPEG2, QuickTime, ASF, WMV and XP Media Center files. With just one click, you can create a DVD movie. You won't have to sit in front of a computer to watch a movie any more. With 1CLICK DVD MOVIE, you can convert your movie files to DVD and watch them on your television.
Fiche de 1CLICK DVD MOVIE
Version
3.0.0.4
Licence
Shareware
Taille
11.95 Mo
Langue
Anglais
Système d'exploitation
WinXP,Windows2000
Editeur
LG Software Innovations
Catégorie
Multimédia : Vidéo
Date de la fiche
19/02/2007
Nombre de téléchargements
472 fois
Nombre de votes
0
Note moyenne
0/10
Temps de téléchargement
Modem 28.8 kbps
0 h 55 min 28 sec.
Modem 33.6 kbps
0 h 47 min 32 sec.
Modem 56 kbps
0 h 28 min 31 sec.
Modem Cable / Adsl
0 h 12 min 28 sec.
Abonnez-vous à la News Letter et recevez les nouveautés tous les mois par email !
connectés