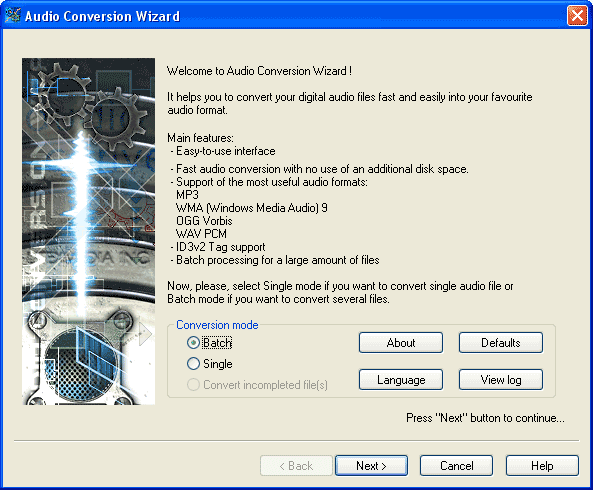 Audio Conversion Wizard helps unexperienced users and professionals to convert audio files of supported audio format from one format to another with all possible settings, using easy step-by-step interface. MP3, WMA 9 (Windows Media Audio), OGG Vorbis and WAV PCM formats are supported, with ID3v2 copying and creation. You can use Single mode for easy one-file conversion and Batch mode for fast converting of several files.
Fiche de Audio Conversion Wizard
Version
2.0
Licence
Shareware
Taille
6.07 Mo
Langue
Anglais
Système d'exploitation
Win95,Win98,WinME,WinNT 4.x,WinXP,Windows2000,Windows2003,Windows Vista Starter,Windows Vista Home Basic,Windows Vista Home Premium,Windows Vista Busi
Editeur
LitexMedia, Inc.
Catégorie
Multimédia : MP3
Date de la fiche
29/08/2003
Nombre de téléchargements
469 fois
Nombre de votes
0
Note moyenne
0/10
Noter Audio Conversion Wizard !
Temps de téléchargement
Modem 28.8 kbps
0 h 28 min 10 sec.
Modem 33.6 kbps
0 h 24 min 9 sec.
Modem 56 kbps
0 h 14 min 29 sec.
Modem Cable / Adsl
0 h 6 min 20 sec.
Abonnez-vous à la News Letter et recevez les nouveautés tous les mois par email !
connectés