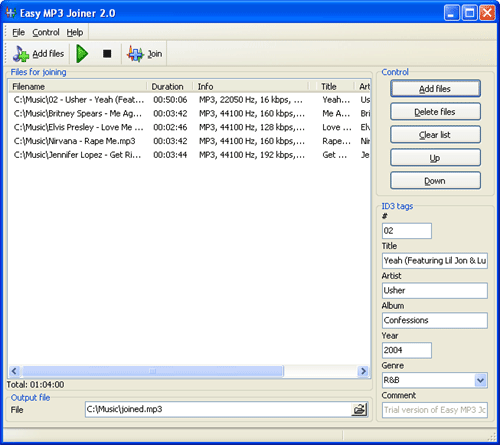 Tired of looking for small and easy-to-use software for merging your audio files without quality loss? Search no further - Easy MP3 Joiner is just the piece of software you have been looking for! Just drag'n'drop your favorite compositions from Windows Explorer into the program window or add them through the program dialog, arrange them in the desired order and press the "Join" (or F5) button. The result will be ready in a wink of an eye!
Fiche de Easy MP3 Joiner
Version
2.8
Licence
Shareware
Taille
1.75 Mo
Langue
Anglais
Système d'exploitation
Win95,Win98,WinME,WinNT 4.x,WinXP,Windows2000,Windows2003,Windows Media Center Edition 2005,Windows Vista Starter,Windows Vista Home Basic,Windows Vis
Editeur
My Music Tools
Catégorie
Multimédia : Création
Date de la fiche
19/11/2006
Nombre de téléchargements
266 fois
Nombre de votes
0
Note moyenne
0/10
Temps de téléchargement
Modem 28.8 kbps
0 h 8 min 7 sec.
Modem 33.6 kbps
0 h 6 min 57 sec.
Modem 56 kbps
0 h 4 min 10 sec.
Modem Cable / Adsl
0 h 1 min 49 sec.
Abonnez-vous à la News Letter et recevez les nouveautés tous les mois par email !
connectés