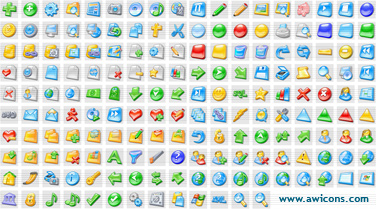 Looks sell. No one likes software that looks like its interface was made in 1993. And certainly not too many people will frequent a website that looks like it was created by a teenager. Have something to "de-uglify?" Check out these royalty-free icon collections with over 170 icons and small graphics elements that come in all sizes - from 16x16 to 128x128, 8 to 32 bits. Most are WinXP icons with alpha-channel.
Fiche de 3D Aqua Icons Collection
Version
1.5
Licence
Démo
Taille
0.56 Mo
Langue
Anglais
Système d'exploitation
Win95,Win98,WinME,WinXP,WinNT 3.x,WinNT 4.x,Windows2000,Windows2003,Windows CE,Not Applicable
Editeur
Lokas Software
Catégorie
Multimédia : Graphisme
Date de la fiche
08/10/2004
Nombre de téléchargements
1285 fois
Nombre de votes
0
Note moyenne
0/10
Noter 3D Aqua Icons Collection !
Temps de téléchargement
Modem 28.8 kbps
0 h 2 min 35 sec.
Modem 33.6 kbps
0 h 2 min 13 sec.
Modem 56 kbps
0 h 1 min 20 sec.
Modem Cable / Adsl
0 h 0 min 35 sec.
Abonnez-vous à la News Letter et recevez les nouveautés tous les mois par email !
connectés