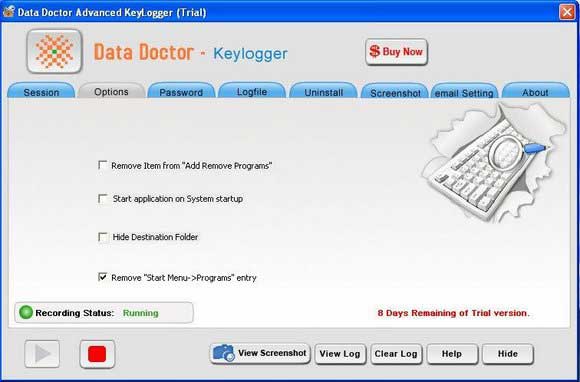 Do you want to capture office employee's online and offline activities? Company designed very energetic and advanced software. Keystroke monitoring software is an easy to use surveillance application to record all keystrokes typed and captures screenshots of all windows applications visited on your computer system or Laptop. Advanced keylogger provides great features such as total invisibility, password protected configuration, keystroke logging, screenshot capturing and encrypted report file. Keylogger provides excellent Graphical User Interface that allows you to understand the software easily. Invisible keylogger tool sends the user log of activities to specified email ID in encrypted form. Remote monitoring software displays total keys typed in current login session and sends the log file to specified email ID in encrypted file. Children internet protection utility is highly secure application records all typed keystrokes that includes emails, passwords, typed URLs, visited websites, instant messages, online chat conversations etc along with periodic windows snapshots in encrypted log file and sends the log file to the user's specified email IDs at regular interval of time. Keylogging software is a professional keystroke monitoring tool to record each and every key pressed on your Laptop. Freeware keylogger is installed in hidden mode disabling any user to change software configuration settings.
Features:
* Keylogger programs are very easy to use with GUI interface.
* External users can not change its configuration settings.
* Key logger secretly records all typed keyboard keys on your computer system in your absence.
* Parental internet software cannot be detect in the 'Add Remove Program List' , 'System Startup', 'Program Menu List' or even user can hide the installation path.

Fiche de Vista Keylogger
Version
2.0.1.5
Licence
Shareware
Taille
0.07 Mo
Langue
Anglais
Système d'exploitation
Win98,WinME,WinNT 3.x,WinNT 4.x,Windows2000,WinXP,Windows2003,Windows Vista Starter,Windows Vista Home Basic,Windows Vista Home Premium,Windows Vista
Editeur
Undelete Software
Catégorie
Utilitaires : Sécurité
Date de la fiche
28/06/2008
Nombre de téléchargements
113 fois
Nombre de votes
0
Note moyenne
0/10
Temps de téléchargement
Modem 28.8 kbps
0 h 0 min 19 sec.
Modem 33.6 kbps
0 h 0 min 16 sec.
Modem 56 kbps
0 h 0 min 10 sec.
Modem Cable / Adsl
0 h 0 min 4 sec.
Abonnez-vous à la News Letter et recevez les nouveautés tous les mois par email !
connectés