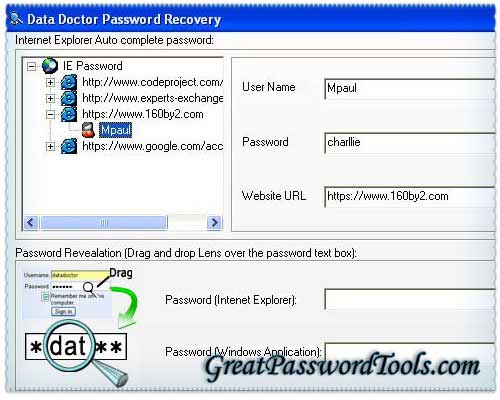 Internet explorer password viewer software provides facility to uncover all forgotten or missed FTP password, multiple user account passwords and Auto Form, AutoComplete login id saved by Microsoft IE. Lost password unlock tool recovers secret code masked by asterisks (****) for Gmail, MSN, Yahoo, Hotmail, EarthLink, AOL etc. IE password recovery utility is used to show all lost and hidden passwords with server information for internet explorer email accounts. Password breaker application provides facility to administrator to modify or change password or login id saved by IE. You can also successfully decrypt your encrypted username and secret code for password protected windows application using hidden password finder utility. Microsoft IE password revealer tool facilitates to unmask all missing password written in Unicode or special character. Password unmask utility instantly displays long character, complex or multilingual password saved by internet explorer. Password uncover tool supports all available windows OS like windows 98, 2000, ME, NT, XP including Vista (Home basic, Home Premium, Business, Ultimate). Features: * IE password unlock tool provides complete recovery solution for forgotten passwords saved by internet explorer. * IE password revealer utility displays login id and password with server information for Orkut, Rediff, AltaVista or other email accounts. * Lost password recovery software reveals hidden or unreadable password for newsgroup accounts, online shopping accounts or web forms etc. * Password viewer software gives facility to save recovered username and secret code at user specified location. * IE password uncover tool quickly recovers missed password from all latest version of internet explorer including 4.x, 5.x, 6 or 7. * IE password breaker utility can be easily installed or uninstalled by non technical user.
Fiche de IE Password Unlock
Version
3.0.1.5
Licence
Shareware
Taille
0.06 Mo
Langue
Anglais
Système d'exploitation
Windows 98/2000/NT/ME/XP
Editeur
Password Recovery Tools
Catégorie
Utilitaires : Sécurité
Date de la fiche
13/10/2008
Nombre de téléchargements
877 fois
Nombre de votes
1
Note moyenne
10/10
Noter IE Password Unlock !
Temps de téléchargement
Modem 28.8 kbps
0 h 0 min 16 sec.
Modem 33.6 kbps
0 h 0 min 14 sec.
Modem 56 kbps
0 h 0 min 8 sec.
Modem Cable / Adsl
0 h 0 min 3 sec.
Abonnez-vous à la News Letter et recevez les nouveautés tous les mois par email !
connectés