| | |
| --- | --- |
| Hard Drive Wiping Software | |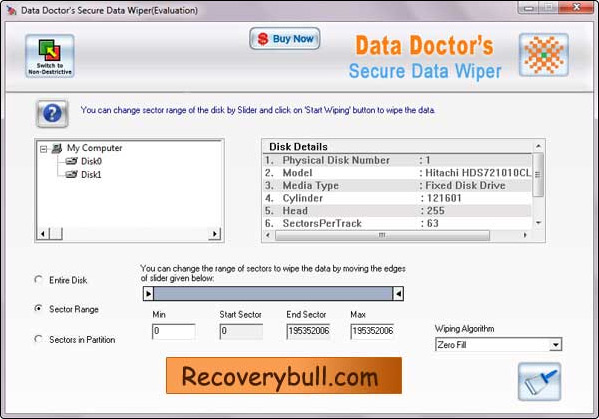 Computer hard drive data shredder tool effectively erase your all deleted confidential and private data files. Hard drive wiping software cleans your computer hard disk and maintains your system performance. Computer hard disk wiper program is an effective tool to entirely wipe your hard disk during virus attack. Hard disk wiping utility supports destructive as well as non-destructive data removal techniques. Non-destructive data wiper tool erases clipboard contents, temporary files, network folder, system registry traces, recent documents and Windows event log. Destructive data cleaner software performs data erasure on selected disk sector or entire hard disk. USB disk wiper tool uses advance disk cleanup algorithm for permanent data elimination. Hard drive sanitization utility deeply scan drives and effectively erase traces of file cluster. Hard drive wiping software is a cost effective tool to permanently cleanup your hard disk critical data. External hard drives cleaner utility is easy to operate and does not require any technical knowledge to operate. Features: * Hard drive erasure software supports data wiping on windows 98, 2000, 2003, ME, NT, XP and Vista versions. * Hard disk data sanitation tool removes data from all type of removable media devices like USB drive, memory stick, pen drives, memory cards etc. * Computer hard disk data shredder program securely wipes secret data such as logins, usernames, passwords, website URLs, cookies, event log files etc. * Software is a user friendly application with interactive graphical user interface for safe and permanent data removal. * Hard disk data sanitation utility completely wipes unused cluster of data not linked with any FAT or NTFS file system.
Fiche de Hard Drive Wiping Software
Version
3.0.1.5
Licence
Shareware
Taille
1.71 Mo
Langue
Anglais
Système d'exploitation
Windows 95/98/2000/NT/ME/XP
Editeur
Download Recovery Software
Catégorie
Utilitaires : Désinstallation
Date de la fiche
13/10/2008
Nombre de téléchargements
815 fois
Nombre de votes
0
Note moyenne
0/10
Noter Hard Drive Wiping Software !
Temps de téléchargement
Modem 28.8 kbps
0 h 7 min 56 sec.
Modem 33.6 kbps
0 h 6 min 48 sec.
Modem 56 kbps
0 h 4 min 4 sec.
Modem Cable / Adsl
0 h 1 min 47 sec.
Abonnez-vous à la News Letter et recevez les nouveautés tous les mois par email !
connectés